Community Outreach Ministry
Lafayette, LA
Join us as we reach out to meet a physical, emotional, relational, financial, or spiritual need in people's lives.
Take the Dare and Choose to Live Beyond Yourself!
THE VISION
The vision for Dare to Care is about living beyond ourselves. . . our needs . . . our wants . . to put others first. It's about a church reaching out to our community needs. Meeting physical, emotional, relational, financial and spiritual needs was a characteristic of the First Century church. Inspired by the Words of Jesus to "Love one another as I have loved you" Living Glory Church endeavors to so likewise in the 21st century.
Too often it is easy for a church to become a spiritual country club where all of our energies and efforts are focused to keep the members happy and we forget the mandate from Jesus to reach the world. At Living Glory Church we don't believe the church is here for us but that we are the church and we are here for the world!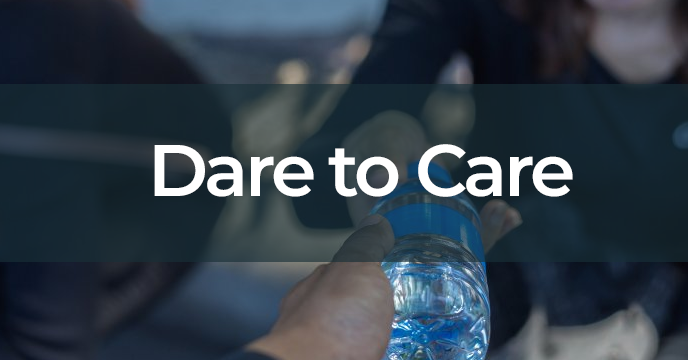 FOUR STATEMENTS THAT CHANGED THE WAY WE DO CHURCH:
1. If our church ceased to exist today. . . would anyone in the community other than our members know or care?
2. If we were the only church in Lafayette. . . how would it change the way we respond to the needs of our community?
3. To reach people no one else is reaching . . . we have to do what no one else is doing.
4. We want to do something so big, . . . it will not succeed without God!
HOW CAN YOU HELP?
1. INVEST YOUR RESOURCES: We dare you to give to our Dare to Care project. Contribute financially to help us continue to meet the needs of hurting people inLafayette. Check the appropriate box on the offering envelope or give online via paypal.
2. INVEST YOUR TIME: Stop being a spectator. Get out of the grandstands of life and get down on the field and begin to give back. We dare you to take the amount of time you spend on Facebook in a week and find a local organization to serve and assist. Life takes on significance when we give to help another human being.
3. INVEST IN OTHERS: We dare you to reach out and do a random act of kindness today. Do something out of the ordinary to bless another person. Maybe it's buying the cup of coffee for the person behind you at Starbucks, or helping someone load their truck at Home Depot. Is there a neighbor that could use a hand on that weekend project? Life becomes fulfilling when we bless and give to others!
FAQs
Who is Dare To Care?
DTC is an outreach ministry of Living Glory Church and operates under their 501C3 umbrella. A separate account has been established for all Dare To Care contributions.
How much of the money collected actually goes back into the community?
All administrative expenses are covered byLivingGloryChurch. We currently give 100% back into Dare to Care projects, outreaches, and assistance to families in need.
What type of assistance is available?
We assist with living expenses for families in crisis.. We do not assist with hotel rent, loans, cable bills, car payments, or credit card bills.
Who is eligible to apply for assistance?
Applicants must be referred by aLivingGloryChurch member or a partner organization. Only one person per household may apply for assistance (multiple requests from the same household will be denied.) A household may only receive assistance once per six month period.
What is the process to apply for Dare to Care assistance?
All those applying for assistance must fill out a Dare To Care "Request for Financial Assistance" form in person at our church office and be able to provide a photo ID and supporting documentation upon request.
All forms are reviewed by committee on Tuesdays of each week. Call backs go out to applicants on Wednesdays and Thursdays.
All financial assistance is paid directly to the organization and is available for individuals to pick up after attending a Sunday service.
We do not give cash to individuals.
Saturdays @ 6:00pm
Worship and the Word
Children up to 10 years
Sundays @ 10:00am
Worship and the Word
Glory Zone Children's Ministry
Wednesdays @ 7:00pm
Worship and the Word
Amped Student Ministry
Glory Zone Children's Ministry
200 E. Butcher Switch Rd.,
Lafayette, LA 70507
Mailing Address:
P.O. Box 91706
Lafayette, La.  70509
337-237-4462

Non-Denominational
Community Minded
A Christian Family Church Reaching Lafayette, Breaux Bridge, Scott, Carencro, Sunset, Broussard and Lafayette Parish, LA